Data retrieved on stardate 83440.
AZELI, DYLYPAP-339-624 B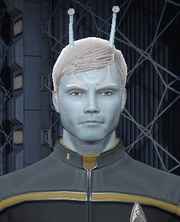 A very bright cadet with an auspicious future ahead of him. He is very dedicated to study, although a point of contention with his mother arose when he failed to attain summa cum laude. Still, he graduated with high honors, and that should not be overlooked. He majored in ship operations, an essential function aboard a starship.
Mr. Azeli has chosen an interesting life focus, devoting himself to logic like a Vulcan would. While he does not subdue his emotions to the level most Vulcans do, he keeps a stoic demeanor and rarely emotes. It will be very interesting to see where this path leads him.