JONES, TALA VIOLETCV-606-42 AFJ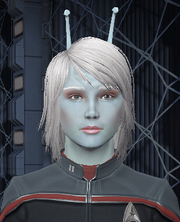 Rank

Lieutenant (as of stardate 83440)

Assignments

USS Renown – junior

tactical officer

– 82533.4
USS Leviathan –

executive officer

/tactical officer (field promotion) – 83164.0
Species

Gender

Female

Height

175 cm

Mass

64 kg
Born

Parents

Unknown biological father and mother
Michael Jones (adoptive father)
Martha Jones, née Sanchez (adoptive mother)
Primary Education

Private high school (undisclosed name), Class of 2404

Alma Mater

Starfleet Academy, Class of 2408 (summa cum laude) – 82513.9
Primary studies: weapon tactics and systems, history and religion, music
Despite coming from a troubled past, this young officer has put together a promising career during her short tenure with Starfleet. Being abandoned by one's biological parents is probably one of the most devastating things a young child can experience, yet Ms. Jones has not allowed it to dull her sense of duty and desire for exploration. She was taken in by the Joneses, a Human family, when she was 4, and they raised her as their own daughter. She graduated at the top of her class with multiple honors; I do believe she's one of the brightest students we've had at the Academy in recent history. She also seems to have some untapped leadership potential. I look forward to seeing her develop into an experienced Starfleet officer.
Community content is available under
CC-BY-SA
unless otherwise noted.