WELLS, LUCAS ALEXANDERDM-593-020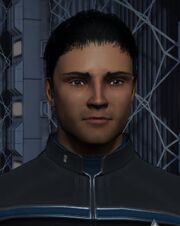 Rank

Ensign (as of stardate 83440)

Assignments

USS Leviathan – science officer – 83164.0
Species

Gender

Male

Height

178 cm

Mass

72 kg
Born

Parents

Siblings
Alma Mater

Starfleet Academy, Class of 2408 (magna cum laude) – 82513.9
Primary studies: astrophysics, quantum mechanics, chemistry
Mr. Lucas Wells has always been a very bright student, but his sarcastic and uncaring nature (inherited from his father, no doubt) has caused some to see him as a liability. I think with proper training, he can become a fine officer; however, he does not always respond well to authority figures. He must learn his place if he is to be successful in Starfleet. He is much like his friend, Jason Fredricks – often taking matters into his own hands when he feels no one else can complete the task. I've recommended him to Captain T'Vana of the USS ShiKahr. If anyone can teach him to respect the chain of command, it's her.
COMMANDER DAVIS – (recorded prior to stardate 83262.2)
A troublemaker if ever I saw one. How he ever graduated from the Academy escapes all logic and reason. I have a strong desire to relieve him of duty, but he is respected by much of the crew, so I will have to leave that for a later date. If he continues to defy me, however, I will be forced to remove him from

bridge

duty. Despite these setbacks, I must admit that he is dedicated to his duty. His knowledge of

astrophysics

is also quite impressive. Only time can tell what my final decision will be.
Community content is available under
CC-BY-SA
unless otherwise noted.