Star Trek: The Second Little Wolf, abbreviated The Second Little Wolf or TSLW, is a fan fiction story by Gornintheusa, created on 4 November 2014. It is comprised of nine chapters within two volumes and is ongoing.
The Second Little Wolf is a crossover story of Star Trek and various other fandoms, including but not limited to Akame ga Kill!, Defiance, and Halo.
Summary
The story of The Second Little Wolf is set primarily in the year 2700. Following almost 300 years of peace, the Legiones of Civilizaciónes is formed by three alliances, the Eagle Alliance, the Dragon Alliance and the Dominion Alliance. Violence erupts between the Eagle and Dragon Alliances and becomes a full-scale war, known as the Galaxy War.
Volume 0
Main article: TSLW Volume 0
The zeroth volume of TSLW contains three chapters, two of which that were originally published on FanFiction and later rewritten and replaced. The zeroth volume ran from 4 November 2014 to 25 November 2014.
Volume 1
Main article: TSLW Volume 1
The first volume of TSLW contains six chapters as of April 2017. Ten chapters total have been written for this volume.
Volume 2
The second volume of TSLW will premiere in either late 2017 or early 2018.
Appendices
Background and trivia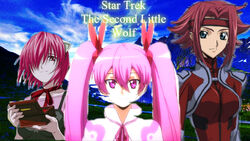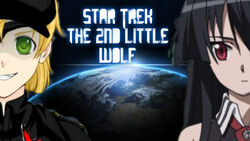 The Second Little Wolf was the first story added to the wiki that was not written or published by CaptFredricks, although he has helped Gornintheusa proofread it.