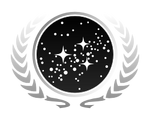 WELCOME TO FEDERATION LEGACY WIKI!
NOTE: For an optimal experience while visiting Federation Legacy Wiki, we recommend using the styles
found here
in your
personal CSS
.
This is a fan fiction wiki originally created by CaptFredricks for his story, Star Trek: Federation Legacy. It has since expanded to include various other fan fiction works. Crossover stories are allowed so long as they are partly about Star Trek. Since the wiki is intended to host only fan fiction, anyone looking for canon information should visit Memory Alpha.
Please note that some content on the wiki may be inappropriate for children. If you aren't allowed to read stories rated Fiction T (age 13+) or Fiction M (age 16+), we are not accountable if you get in trouble for doing so. Please view our content ratings page for more detailed rating information.
Federation Legacy Wiki is not affiliated with or endorsed by CBS. All rights to Star Trek are owned by CBS Studios Inc. All content on this wiki is created and published under fair use guidelines and no copyright infringement is intended. See our copyright policy for more information.
Community content is available under
CC-BY-SA
unless otherwise noted.