No appearances
The content of this article currently does not appear in any of the fan fiction stories featured on the wiki. It is here due to a future appearance or reference in a story.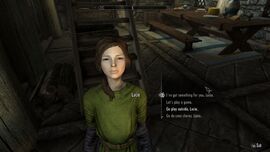 Lucia was a young Human orphan girl on the planet in the lands of Skyrim. She was abandon by her uncle and aunt and later was raised by two Argonians, Komo and Nerus Pessius.
Community content is available under
CC-BY-SA
unless otherwise noted.