He's dead, Jim!
This article is a stub, meaning it contains information that is either outdated or very fragmented. Please contribute to this article to bring it up to the best possible quality.
You broke your little ships...

This article is one big mess and is in need of major revisions to bring it up to good quality. You can help Federation Legacy Wiki by cleaning up this article.
...
This article contains

canon

material that does not appear in any fan fiction stories on the wiki. Please remove all non-pertinent canon information from the article to comply with wiki guidelines.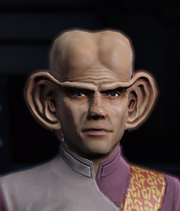 The Ferengi were a warp capable humanoid species from the Alpha Quadrant. They originated from planet Ferenginar. Ferengi civilization was built on a caricature of free enterprise, where earning profit was the sole meaningful goal in life, superseding all other endeavors.
The Ferengi governing body, known as the Ferengi Alliance, was formed over a period of ten thousand years, beginning with the establishment of a system of currency, to their purchase of warp technology, and finally to its state in the 24th century.[citation needed]
Notable individuals
Edit
Appendices
Edit
Appearances
Edit
External links
Edit
Community content is available under
CC-BY-SA
unless otherwise noted.