This article contains major
SPOILERS
about
upcoming
or recently released content. Continue at your own risk.
CONTINUE
You broke your little ships...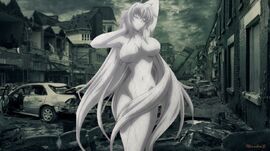 When Treav was undercover and infiltrated Crono 15, he saw a statue of what appeared to be a young women. Some say it was what the Devils where before the Great War Of Orion many Years ago as the Devils lost the battles against the Fallen Angels lead by the Serpent King and whats left of the Devils are now hideous creatures we now called Demons .as of now the Statue remains a mystery.
Appearances
Edit
Community content is available under
CC-BY-SA
unless otherwise noted.