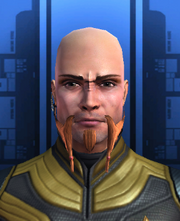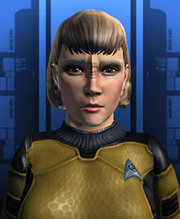 The Bajorans were a humanoid species native to the planet Bajor. They were members of the United Federation of Planets as of 2409.
Bajorans typically used their family name first and their given name second when introducing themselves.[citation needed]
History
[
]
A Bajoran woman fell victim to Gein, a maintenance hologram turned killer, on the lower levels of Drozana Station in May 2409.[1]
People
[
]
Notable individuals
[
]
Pim Dalel (alternate timeline)

Unnamed Bajorans
Appendices
[
]
Appearances
[
]
Unofficial appearances
[
]
Notes and references
[
]
External links
[
]
[

]